After the bliss of getting engaged to your dream partner, it's time to get down to business. The first question in such a situation that might be surfacing is to know where to start.  
Finding the ideal location to record the moments you can cherish later in life is one of the things that makes planning your wedding so much fun! Are you interested in learning how to find wedding venues, such as wedding venues in Colorado, but unsure of where to begin? 
When you know what questions to ask at wedding venues, it's easier to prepare a list of them, especially outdoor wedding venues that you might be interested in! 
So, where should you begin your search for the ideal wedding venues worldwide? Start with these suggestions, like checking out the top outdoor wedding venues in Colorado. 
What questions to ask wedding venues you're considering the top wedding venues in mind from one of the largest economies in the World like the USA?
Suppose you eye a city in Colorado; you will need to think that it's crucial to be prepared when you begin venue searching. Narrowing down venues becomes much easier if you know what you're looking for.  
Before you reach out to the top wedding venues in Colorado, there are a few things you should figure out first. These include:  
Location 

Guest count

Budget 

Preferred Date 

Wedding venue location
For many couples, location is everything. The location of your wedding venue may serve as the basis for your search for the ideal location. If you aren't sure about the location, here are a few questions to ask yourself.  
       

Do you want to have your wedding indoors, outdoors, or the option for both depending on time of year?

       

What general aesthetic (natural, architectural, modern, etc.) are you seeking in your venue?
Do you want to get married close to your family or home? Do you desire a destination wedding?
Guest Count
How many people do you want at your  outdoor wedding venues in Colorado? Make a list of the people you want to invite so you can figure this out. You might be limited in the number of guests you can invite if you're on a tight budget or depending on the size of your wedding venues capacity. 
Either way, it's essential to know your guest count before you search for a wedding venue in Colorado because this is the first question you will be asked.   
Budget
There are often many cases where there is no one way to get down the budget estimation for your wedding. For this auspicious function, you know what you are willing to spend and what information is most important to you. As a general rule, 50% of your overall spending should go into your venue, catering, and rentals.
If hiring an outside caterer for success with finding wedding venues in Colorado, decide how to split the cost before you begin venue shopping. If your venue includes catering, you can combine these expenses and have a larger budget for your venue! 
Preferred Date
You may not care what date you get married, but if you have a preferred date, it's essential to begin venue shopping as soon as possible. Some venues, like outdoor wedding venues in Colorado, may list their availability on their website, but many venues require you to contact them before they give their availability.  
Having more than one date in mind is good, so you aren't scrambling if your venue doesn't have your preferred date. Keep in mind that Friday and Saturday nights typically cost more than other days of the week. 
You can start looking for wedding venues in Colorado once you know the answers to these queries! There are many inquiries you should make of your venue once your search has begun in order to make your final choice. Here's a list of questions we think are most important, and you may want to add to this list depending on your specific needs.  
Before You Book Your Venue Tour
Before you schedule a venue tour, these are the questions to ask in your initial communications with a venue like a wedding venue in Colorado. This way, you can rule out the venues that aren't for you before committing the time and energy to tour a venue. 
Before contacting the venue, be sure to check their website for the answers to these questions.
Is our date available? 
This inquiry will swiftly eliminate potential wedding venues in Colorado if you have a date that you are dead set on. You might choose to ask something along the lines of, "What does your availability look like in June of 2023?" if you are not concerned enough about getting married on the auspicious date. 
How many guests can you accommodate?
Depending on the theme of your wedding, the answer to this question may change. Sit-down dinners with room for dancing may accommodate fewer guests than a buffet or standing reception.  
How long do we have the space for? 
What matters here is how long your event will be in terms of time, so you can make the necessary arrangement with space. If you want to, will you be able to get ready at your location? Can you use the wedding venue in Colorado for your wedding rehearsal?  
Do you have room blocks for guests? 
There will probably be hotel blocks available for your visitors if your site is at a hotel. If not, you might need to hunt for nearby lodging. If you plan to live stream your wedding, you may be OK with this! 
 Rentals of furniture, additional time or employees, and add-ons like photo booths and lighting are some examples. Many wedding venues in Colorado include booklets with a list of all the extra costs. 
What is the timeline for payments? 
Knowing the timeline for your venue payment is crucial for budgeting because it is most likely the most significant payment you'll make for your wedding.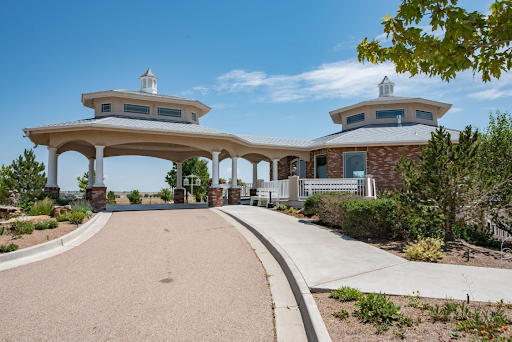 During your venue tour
After you've answered the questions above for each of your wedding venues in Colorado, you'll have a narrowed list of venues to tour. Make sure to note these inquiries to make while you're on the road!   
Will you have a venue coordinator or planner to oversee the details? 
Some venues require you to hire a wedding planner or have a designated venue coordinator. Venue coordinators and wedding planners are different! Your event is managed by the venue coordinator, who serves as your main point of contact. Your wedding planner is responsible for designing, coordinating vendors, and ensuring your wedding day goes smoothly. 
What décor is provided by your venue?
This might include tables and chairs, centerpieces or table numbers, and lighting. Some venues are just open spaces for you to fill with your rentals. You may also want to ask if you can move furniture around or if everything needs to stay as is.  
Is there space to get ready?
Depending on your timeline, you can get ready partially or wholly at your venue. If this is something you want, make sure your venue has a designated location for both parties to do so. 
Do you have live-streaming capabilities? 
This one is super important if you plan to live-stream your event. Inquire about the quality of the internet connection if live streaming isn't an option. As long as you have a good relationship, you can live stream easily with Lovecast – no fancy equipment is necessary.  
Can we hire our vendors?
You can get a list of preferred vendors from many venues. These are companies that the venue has previously collaborated with. Remember that this is a partnership and that not all of the vendors on each list will match your preferences in terms of style, price, or standards. Nevertheless, research these! In some circumstances, you must use a particular vendor. 
Do you have a sound system and mics for ceremonies and speeches?
The next question is: Are they free or extra? Mics are essential if you're live-streaming your wedding. With Lovecast, you can stream easily with a phone, but we've also put together a handy tech list if you'd like a more professional setup. 
What should you ask wedding venues now that you know what to ask?
Once you have your questions about wedding venues in Colorado, ask away! This is a significant decision, so don't be afraid to ask as many questions as you need to. 
Please be aware that a venue's response time is very important. Narrow down your list after you've scheduled tours and spoken to a representative about what you like and don't like about each venue. Get rid of the ones that blend in. 
And if you're even considering adding a virtual element to your wedding, make sure your options of wedding venues in Colorado can accommodate you! Meadows Event Center, LLC is here to help you with maximum information on wedding occasions. Visit our website for more information on making a better decision for selection of wedding venues in Colorado!